August 28, 2019
11:30 am
to
12:40 pm
It is the 57th MCBA AGM!
MCBA successfully held its 57th Annual General Meeting today at Inter-Continental Hotel, Kuala Lumpur.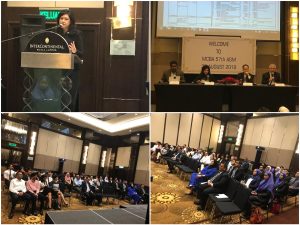 In her speech, she covered a wide range of topics which included acknowledging efforts and contributions made by the EXCO members, member banks and secretariat staff which culminated in the conclusion of collective agreements with the various unions, the concept of "living wage", the impact of and what responses member banks should take in addressing changes brought about by digitalization, the likely changes to the labor-related legislations and the current and future economic scenario which would affect banking industry.
There was no election of office bearers as the tenure of the current set of EXCO members would only end by year 2020.
The AGM was well attended and participated by member banks with close to sixty delegates present at the meeting.