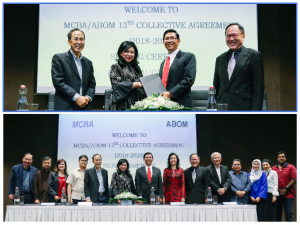 To mark the success of having concluded the 13th Collective Agreement, MCBA and ABOM jointly celebrated the achievement by holding a CA signing ceremony on 10.8.2018 at Hilton Kuala Lumpur.
In her welcoming speech, the President of MCBA Nora Manaf commended highly the commitment of both MCBA and ABOM for their professionalism in conducting the CA negotiation. She noted that, just like in the past, ABOM had always prepared ahead of time and was willing to conclude the collective agreement after just a few rounds of negotiation.
Nora also highlighted the need to improve productivity and strengthen workforce capabilities so that workers can successfully thrive in time of lightning speed of technological evolution and economic volatility. She went on to illustrate some of the challenges ahead and how they could be turned into opportunities to better peoples' livelihood.
Her speech was followed by an address by the President of ABOM, Wan Shaharuddin Shah Ismail who similarly commended on the good relationship between MCBA and ABOM which contributed to the successful conclusion of the collective agreement.
About 4,000 officers in the employ of 10 banks in Peninsular would benefit from the conclusion of the 13th collective agreement.
The celebration was well attended by members of the HR community in the banking industry and members of ABOM.