November 16, 2021
11:00 am
to
12:30 pm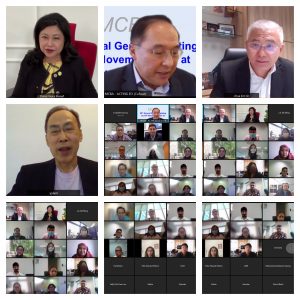 It is the 59th MCBA AGM!
MCBA successfully held its first-ever virtual 59th Annual General Meeting on 16th November 2021 (Tuesday) at MCBA Conference Room.
The highlight of the meeting was the welcoming speech by the President of MCBA, Datuk Nora Abdul Manaf. In her speech, she said many of us thought the worst was over or at least on track to be over, and that the year 2021 will be a recovery year as after all it was then called the Recovery Movement Control Order period. And she said, we have gone through another period of prolonged lockdown since then and the number of cases in Malaysia had continued to grow, reaching 24,599 cases on 26 August 2021 (as per the data from the Ministry of Health COVIDNOW website), and right before our National Day.
There was no election of office bearers as the tenure of the current set of EXCO members would only end by year 2022.
Close to 40 delegates joined the virtual Annual General Meeting.